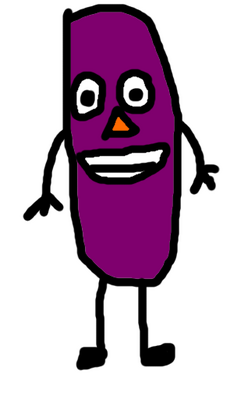 Sausage
is the main dueteragonist of the animated series 
The Bacon Chronicles
. He is a chill, laid back 11 year old sausage who went into the Carnivorous Zone with Bacon after Bacon discovered it. He is voiced by Son of Hat.
Personality
Sausage is laid back, and always stays chill and relaxed in almost any situation. He almost never freaks out at anything, and usually does not freak much when it does happen. Sausage is overall very chill.
Appearance
Sausage is a rounded cylinder-like sausage. He is dark purple-pink and occasionally wears his trademark sunglasses. He has a triangular orange nose like Bacon.
Voices
English
Son of Hat (2015 - present)
BaconMahBoi (screaming only, 2015 - present)
Other languages TBA
Trivia
Sausage's screaming voice is provided by BaconMahBoi.